Welcome Mr. Birane Sambe, CCLME Regional Coordinator
Mr. Birane Sambe, a Senegalese national, assumed his duties as the CCLME Regional Coordinator on 1 April 2010.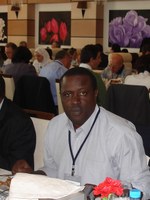 Mr. Birane Sambe
Mr Sambe is specialized in stock assessment and fisheries management. Prior to his assignment with FAO, Mr Sambe worked as a scientist at the Senegalese research institute CRODT (Centre de recherches océanographiques de Dakar -Thiaroye) in Dakar for more than 20 years. At CRODT he was responsible for the coordination of the programme on resources and environment, supervising the scientific activities of around 10 scientists and more than 50 technicians.
During his career, Mr Sambe has also been entrusted with several sub-regional and regional responsibilities and has held national coordinating and steering committee functions for a range of international research projects. For several years Mr Sambe was responsible for the coordination of the Working Group on research for the Sub-regional Fisheries Commission (SRFC) and he also served as  Chairman of the Scientific Sub-Committee of CECAF for two periods from 2000 to 2005. Since 2007 he has been the Chairman of the FAO Working Group on the assessment of small pelagic fish off Northwest Africa and for a three year period he also coordinated the ACP-EU project on fisheries management. All of the above assignments have allowed him to gain a solid understanding of regional fisheries and ecosystem issues relevant to the coastal countries of West Africa.
Mr Sambe also has to his assistance Ms. Birgitta Liss Lymer (Marine Fisheries and Coastal Management Officer) who has been seconded by the Government of Sweden to support the project for up to two years. Before joining the CCLME team, Birgitta was based in Bangkok where she worked with UNEP Regional Seas (COBSEA).